Weekly Community Newsletter: The Midnight Grove and Jhebbal Sag
Posted on September 19th, 2018 08:24 AM EST
Greetings and salutations, you bodacious breaths of fresh air and welcome back to the Conan Exiles community newsletter. This week's recap includes some news and some other things that I don't know yet.
Friday was stream day and this time we tried, with varying levels of success, to do a blind run through the Midnight Grove, a dungeon meant for a party of several high-level players. The result was a fun romp through a difficult part of the game with the odd death here and there.
We especially don't recommend challenging the Bull with only 50% health:
https://clips.twitch.tv/LittleBreakableEagleTBTacoRight
Check out the full run in the video below:
https://www.youtube.com/watch?v=Av_cdX-7nWc
The Midnight Grove is where you go to learn the Jhebbal sag religion path, the sixth and final religion in Conan Exiles. You have to traverse a labyrinthian maze, facing down many dangers along your path before you make it to the end and discover the final challenge: Jhebbal Sag's champion.
Defeating the werewolf and consuming its flesh will give you the knowledge of Jhebbal Sag's altars and religious items. Followers of Jhebbel Sag are all about controlling and hunting beasts. Special bloodletter knives allows them to extract blood from their victims and sacrifice it to their bloodthirsty master.
They are also able to craft special lures that attract animals and other beasts to wherever they're thrown, making them deadly and implacable foes out in the wild. The magical Mark of Jhebbal Sag will offer any creature caught within it up as tribute to the Lord of Beasts. In return he may send one of his champions to see if you are still worthy.
Reaching the highest level of worship with Jhebbal Sag will grant you access to the deadly Claws of Jhebbal Sag. This devastating weapon allows you to truly tap into your inner beast and unleash furious swipes with razor sharp claws, much like like Jhebbal Sag's champion.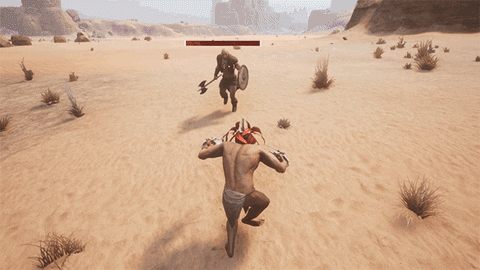 Future Funcom streams
Speaking of the streams, we want to get your feedback on our current live stream content and what you'd like to see in the streams in the future. At the moment we're using the Funcom Mixer and Twitch channels to showcase upcoming game content, celebrate the community's accomplishments and creations, and sometimes play a game or two with members of the community. Beyond that, the world is our oyster and we want to expand and improve on our streams.
Is there anything you feel is missing in terms of streaming content? More different games? More chill streams where we play whatever we like and interact with chat? Maybe more focus on community creators, streamers and mod makers? Or maybe you'd like to see us do playdate streams where we play games with the community?
Leave a comment on 
the forums
[forums.funcom.com]
 or drop us a line on 
Twitter
 or 
Facebook
[www.facebook.com]
 and let your opinion be heard, not just about the Conan Exiles streams, but any and all streaming content you'd like to see. Any kind of feedback is most appreciated.
Testlive and other fixes
As you may have noticed, we dropped another 
Testlive update
[forums.funcom.com]
 on Monday. This particular build was focused on bug fixes and smoothing out some extra issues that have popped up during testing. The Midnight Grove bosses should now spawn as intended, we've balanced the building costs for the Altar of Ymir and fixed a couple of UI bugs.
There have also been some Purge fixes implemented on Testlive previously, so if you're one of our intrepid Testlive players please let us know how these changes work for you.
While we're mainly working on finishing up the Pets update we will also address critical issues and bugs as they appear on the live branch. Going forward we're refocusing our efforts on improving AI and thrall behavior while also working on new and existing bugs and new content. We know this is an area that requires some additional polish and we're dedicated to putting in the work to improve.
Sincerely,
Funcom
Click here for the source of this article
RSS Feed
Share This Article